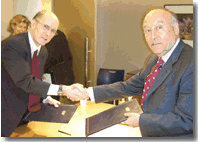 In favor of the region Brookings Institution signs strategic alliance to stimulate economic knowledge
April 27, 2009
A cooperation agreement was signed in Washington to promote the generation of propositive economic thought in favor of the region
(Special, April 27, 2009).- CAF President & CEO Enrique García and Brookings Institution President Strobe Talbott met in the institution's headquarters in Washington DC to sign a strategic alliance, under which both organizations will take joint actions to stimulate economic knowledge in Latin America, and benefit and stimulate the formulation of public policies for the region in a relevant and sustainable way.
The agreement emphasizes joint efforts to support and promote applied economic research as a fundamental tool for improving economic and social development. The joint work will be implemented through actions to generate new knowledge, disseminate existing knowledge and promote intellectual exchange between academia and policymakers.
During the signing, the CAF president said, "this strategic agreement offers us the opportunity to work actively with Brookings Institution, one of the world's most important think tanks, to generate economic knowledge which offers effective benefits for the region." The agreement "confirms the intellectual role of CAF in the region and its commitment to promoting sustainable development and regional integration," he added.
After the ceremony, a conference was held on the theme: "The challenges of Latin America beyond the global crisis," moderated by Enrique García. The speakers were Colombian Finance Minister Oscar Iván Zuluaga; and from the Brookings Institution: director of the Latin American Initiative, Mauricio Cárdenas, and senior fellow in Global Economy and Development, Daniel Kaufmann, among others.