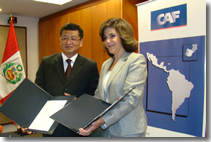 In Peru: agreement signed with Sedapal to execute pilot project in Carapongo Treatment Plant
April 16, 2009
The agreement covers advisory services for identification, marketing and sale of the reductions of the greenhouse gas emissions generated by the project
(Lima, April 16, 2009).- The Andean Development Corporation signed an agreement with Sedapal to start execution of a pilot project in the Sewage Treatment Plant located in Vitarte district of the city of Lima.
CAF director Silva Pardo said the multilateral organization would advise on the preparation of project studies on identification, marketing and sale of the reductions of the greenhouse gas emissions generated by the project.
The Corporation -- through its Environment Office -- will make its best efforts to identify potential buyers for the carbon emission reductions generated by the project, she added.
"Based on our preliminary evaluation of the project, we consider that it could potentially come within the current criteria of the Clean Development Mechanism (CDM) of the Kyoto Protocol and other greenhouse gas emission reduction markets," the CAF executive said.
For his part, Sedapal President & CEO Guillermo León Suematsu said his company would supply CAF with all the technical information on the Carapongo Sewage Treatment Plant which will be used as the basis for establishing the greenhouse gas reduction methodology. The plant has a capacity of 43,000 M3/day. By reducing these emissions, the company will obtain certificates which can be marketed on the carbon market and contribute to partially financing the project.
"In addition to obtaining the certificates, Sedapal aims to consolidate its position as a company with a strong sense of social responsibility. We are committed to the environment and we have made an important investment to acquire the equipment to burn the methane gas which the plant emits in order to use it ecologically as biodigester," he added.
SEDAPAL is a corporation wholly owned by the State, incorporated under private law, attached to the ministry of Housing, Construction and Sanitation, with technical, administrative, economic and financial autonomy. Its services are of public need and use and of preferential social interest.