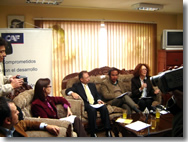 Reverse Business Fair announced for El Alto, Bolivia
April 13, 2009
The multilateral organization supports this project to promote national production and stimulate the productive sector of El Alto city.
The exhibitors are large companies that require goods and services from micro and small businesses which receive training to present offers adapted to market requirements and compliance with delivery times and quality.
(La Paz, April 13, 2009).- In the El Alto city offices, CAF director representative in Bolivia Emilio Uquillas announced the holding of the III Inverse Business Fair (FIE) for the first time in this city from May 7-11, 2009 with financing from the multilateral development bank and other cooperation institutions.
The main objective of FIE is to help create and expand a potential and sustainable market for 1,000 micro and small enterprises in Bolivia by exploiting the economies of scale generated by a fair where the exhibitors are large national companies which require goods and services. The business event also benefits the customer companies by efficiently bringing together a large number of potential suppliers in one place, favoring direct relations between both sides which optimizes operating costs.
Uquillas said the initiative was part of one of CAF's key objectives to reduce poverty in the Andean region through productive development aimed at increasing income levels. "At global level it is about fostering national production and stimulating the productive sector by supporting young entrepreneurs and professionals so that in the medium term they can produce more competitively and form productive chains with the country's large companies," he said.
Before the fair, the micro and small entrepreneurs receive training on how to present offers to meet the needs, requirements and characteristics of about 100 exhibiting companies, as well as offering post-fair service to guarantee compliance and quality on delivery of the marketed products and services.
The institution responsible for execution of this event is the Reverse Fair Foundation, which said it was expecting demand for raw materials, maintenance services, electrical material, consulting, studies and research services, machinery and equipment, general services, spare parts, food and drink, production inputs, events and travel, accessories, arts and crafts, hardware, welding, carpentry, pharmaceutical products, medicine, health care material, office equipment, communication, advertising, safety material and clothing, fuel and lubricants, construction and remodeling, packaging, recreation and sport, and cleaning material.
The III Reverse Fair will be held in the former IBUSA factory located in Av. Juan Pablo II in the city of El Alto from 8.00 am to 4.00 pm. Admission for the public is free