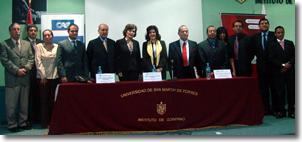 CAF Leadership for Transformation 2009 Program starts in Peru
May 16, 2009
CAF promotes training of 500 leaders in alliance with USMP Institute of Government
Decentralized training to be offered in 12 Peruvian provinces.
(Lima, May 16, 2009).- The Andean Development Corporation and the Institute of Government of the University of San Martn de Porres (UPSMP) today opened the CAF Leadership for Transformation Program 2009, with the objective of strengthening citizen leadership in civic-democratic values in 12 provinces of the country.
Participants in the opening ceremony were Eleonora Silva Pardo, CAF director representative in Peru; Javier Tantalen Arbul, director of the USMP Institute of Government; and Susana Pinilla, president of the Institute of Microenterprise Development (IDECI).
The CAF representative said that the multilateral organization would execute the Leadership for Transformation Program in Peru for the fourth year running. The courses will train 500 natural leaders representing social, cultural, indigenous and campesino organizations and labor unions and associations of micro and small enterprises from 12 provinces of the country.
Silva Pardo said the program began in Colombia in 2002 out of a CAF initiative and since then has been successfully replicated in Bolivia, Peru, Venezuela and Ecuador, with the objective of identifying natural leaders of the region and laying the base for a new style of leadership, enriching their system of values and equipping them with tools for assuming the responsibilities of future leadership with a deep civic, democratic and ethical sense,
"The strategic value of the program lies in the importance of training as a mechanism for strengthening democratic governance, improving the situation of citizens and their context, helping their communities achieve a better quality of life and a better dialogue between all levels of society which is so important for our countries," Silva said.
The main objectives of the program are to identify, select and train natural leaders in an effort to generate a transformational leadership, which manages tools and has the technical capacity to detect community needs, and prepare actions that enhance the exercise of their citizenship, thus contributing to the governance of their peoples and the transformation into a more democratic and modern country, the CAF executive added.
Tantalen Arbul thanked CAF for supporting the fourth training event which this year will be take place in Amazonas, Ayacucho, Callao, Huacavelica, (Huacho-Huaura), Hunuco, Lambayeque, Lima, Moquegua, Puerto Maldonado, Puno and Tacna. Recalling that 572 leaders were trained last year, he said that overall 1,500 participants had graduated in Peru and that the great challenge was to improve the quality and results of this fourth course.
The Leadership for Transformation program responds to one of the lines of action which CAF is implementing in the area of governance, and which by the end of 2008 had trained 10,530 leaders in the five countries of the Andean region.