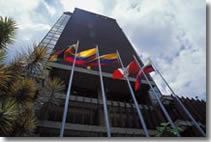 CAF trains public officials to manage turnkey contracts
(La Paz, May 13, 2009).- With the objective of assisting officials from public entities responsible for planning, executing and managing contracting processes for infrastructure works, the Andean Development Corporation organized a training workshop on "Turnkey contracts for road projects," for representatives of the national, local and prefecture governments, along with delegates from the national construction associations.
CAF specialists in this area and international speakers from Argentina and Colombia spoke on the technical conditions of works suitable for turnkey contracts, methods of quality control for construction, requirements, qualification and selection criteria for bidders. The training emphasized the stages of pre-investment and technical, financial and legal structuring; maintenance, operation, execution and supervision.
CAF director representative in Bolivia Emilio Uquillas said one of the institution's important activities in the country was training for continuous improvement of human resources. "The considerable investments made by the national, local and prefecture governments in construction and maintenance of road infrastructure require their officials to have adequate expertise in the application of this type of contract," he concluded.
In turnkey contracts, the contractor agrees to execute all the activities related to a construction project (design, works, supplies, transport, equipment, maintenance, specialized staff and even financing,) along with areas such as civil, hydraulic and mechanical engineering involved in the execution, and take full responsibility with a fixed date for handing over the works on a "fully operational" or turnkey basis.
As the speakers explained, turnkey contracts are a valid option for developing some of the projects or works for which state authorities are responsible. The advantages lie in concentrating all the obligations for execution and completion of the works in a single contractor with responsibility for the entire project. The disadvantages are the higher cost of the works due to the fixed and inflexible nature of the project, the risk of being totally dependent on one contractor as the sole supplier, and possible deficiencies in environmental management due to lack of parameters for qualifying and quantifying this aspect.
"For a responsible contractor to enter a bidding process for a turnkey project and for that contractor to be relatively certain that the works will reach a satisfactory conclusion, clear and precise specifications have to be structured with adequate dissemination, and the participation of the parties interested in the pre-contractual process," said CAF deputy director of infrastructure analysis and sectoral programming, Diego Sánchez. He added that the control activities, the term of the contract and later maintenance had to be adequately designed and planned.
From the business point of view, the president of the Bolivian Chamber of Construction (Caboco), Ivan Bustillos said the potential problems with this method of contracting were price instability, which affects the economic and financial equilibrium of the contracts, the financial limitations that oblige participation in consortia with foreign companies, lack of local sources of supply of key inputs, and the risk that bad design could lead to unrealistic reference prices.