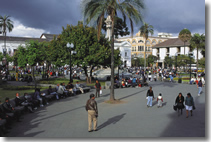 Promotion of research on issues relevant to Latin America
May 07, 2009
CAF invites researchers to submit proposals for research with relevance to public policies which contributes to understanding the issue of citizen security, crime and violence in Latin America.
US$15,000 will be awarded to each project selected
Information on how to apply is on the CAF website.
(Caracas, May 7, 2009). - The promotion of lines of research on issues relevant to Latin America is one of the key interests of the Andean Development Corporation, which is the reason for the most recent invitation to researchers with interests in the region to submit proposals on the issue of citizen security, crime and violence in Latin America.
With this invitation, CAF aims to promote empirical research (quantitative or qualitative) with relevance to public policy which contributes to understanding this issue in the region. Although it is often admitted that Latin America is one of the most violent regions in the world, and academic and policy debates usually highlight certain successful regional cases, existing evaluations of efforts in Latin America in general, or in most cities, show disappointing results.
The deadline for receiving entries is May 31. To be selected proposals will have to comply with the usual rigorous standards for peer-reviewed academic journals, according to the opinion of a multidisciplinary panel of experts. Results will be announced on June 15, 2009.
CAF will grant US$15,000 to each project selected, and will consider the possibility of increasing the amount in cases of special data collection needs or other factors.
Entries should be sent, together with an up-to-date resume of the main researchers, to Daniel Ortega (dortega@caf.com) and Jennifer Arencibia (jarencibia@caf.com).