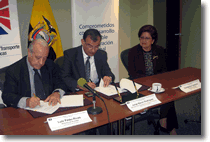 Technical cooperation agreement signed with Transport Ministry
(Quito, May 4, 2009).- The Ministry of Transport and Public Works (MTOP) and the Andean Development Corporation (CAF) signed today a non-reimbursable technical cooperation agreement to strengthen the capacities of the ministry's technical units in the design, follow-up and control of roadworks built in rigid pavement, to guarantee durability over time and improve road conditions.
Present at the signing were Ministry of Transport and Public Works, Jorge Marún, and for CAF, Luis Paláu-Rivas, director representative in Ecuador, and Constanza Calderón, deputy director. The ceremony took place in the CAF office in Ecuador.
The CAF representative said he was pleased with the signing of the cooperation agreement "which will result in acquiring and incorporating best experiences in national and international road construction techniques."
According to information from the ministry, the national road network covers approximately 42,670 km, of which 8,654 km relate to the primary or basic network which is under central government responsibility.
The technical cooperation funds will be used to prepare a diagnosis of the state of paved roads in the country, through direct observation and case analysis, emphasizing quality of design and effectiveness of the construction processes used. The findings will help present and future construction to achieve a high standard of quality and improve the country's road infrastructure.