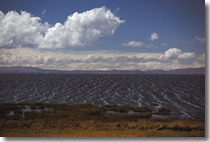 June 24, 2009
Winners of the eighth annual Research Program on Development Issues announced
Winners to receive US$ 10 to develop their research proposals
(Caracas, June 24, 2009). - Development and Natural Resources: How to break the curse? was the theme chosen by the Corporación Andina de Fomento (CAF) for its eighth annual Research Program on Development Issues. The Corporation announced the names of the four winners, having received 47 proposals from different countries.
This is the eighth year the Program has been held, and it is organized by the multilateral financial agency with a view to receiving research proposals on topics of interest to CAF. Through this initiative, the Corporation provides selected proposals with economic support. Winners may be invited to present their final research paper at a local or regional seminar and subsequently have it distributed.
While the Program is aimed mainly at researchers associated with Latin American universities, research institutes, and other public and private institutions in Latin America, its call for papers is also extended to assistant professors, researchers and postgraduate students from CAF's shareholder countries who work at institutions in the United States or Europe and whose research focuses on subjects related to Latin America.
The members of the jury for this year's Program were: Osmel Manzano, Inter-American Development Bank; Diego Restuccia, University of Toronto; Roberto Rigobón, Massachusetts Institute of Technology; Francisco Rodríguez, United Nations Development Programme; Anthony Venables, University of Oxford; and officials from CAF's Public Policy and Competitiveness Office. The proposals chosen by the jury were:
A Commodity Curse: the Dynamic Effects on Commodity Prices of Fiscal Performance in Latin America, Leandro Medina, George Washington University, United States.
Growth and Natural Resource in Latin America: New Evidence Using a Heterogeneous Panel Analysis, Tiago V. de V. Cavalcanti, Kamiar Mohaddes, and Mehdi Raissi, University of Cambridge, UK.
Resource Booms, Governance and Economic Development: Evidence from Brazil's Oil Royalties, Claudio Ferraz and Joana Monteiro, Pontifícia Universidade Católica do Rio de Janiero, Brazil..
State Formation, Tax Structures and Mineral Abundance: Chile and Peru, 1850-1930s, Maritza Paredes, University of Oxford, UK.
The researchers will receive US$ 10,000 for developing their proposal and will have until the end of the year to conduct their research and hand in a working paper in accordance with the terms of their proposal.