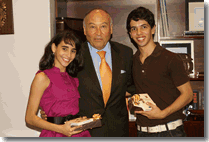 Support for Ballet de las Américas so that they can represent Venezuela in Moscow
June 29, 2009
CAF has approved non-reimbursable resources so that representatives of the Venezuelan dance group, Ballet de las Américas, can take part in an international competition held by the Bolshoi Theater in Moscow.
(Special, June 29, 2009). - The Corporación Andina de Fomento (CAF) approved technical cooperation for Ballet de las Américas of Venezuela. These non-reimbursable funds will allow the ballet students Ana Karina Enríquez (13 years of age) and Anthony Vivas (18) and the choreographer Roumen Rachev to take part in the Eleventh International Ballet Competition and Contest of Choreographers to be held at the Bolshoi Theater in Moscow, Russia.
"Supporting young virtuosos from our shareholder countries –explained Enrique García, the multilateral agency's executive president- is a way of strengthening the cultural spheres in the region and the vitality of civil society within the context of the sustainable development of countries." García added that this action is part of the activities being undertaken by CAF in favor of Latin America's cultural sector. "The Corporation is interested in helping to consolidate a human development agenda in our shareholder countries," he concluded.
The young people receiving CAF's support were chosen to take part in this important event after being selected as the finalists in the competition Tanzolump 2009, held in Berlin, Germany, last February. The Eleventh International Ballet Competition is one of the most renowned events of its kind in the world.
Stella Quintana, Ballet de las Américas's director general, expressed her profound thanks for CAF's support and commented that the repertoire selected included the Pas de Deux from the Flower Festival in Genzano, with choreography by Bournonville; the Pas de Deux from Vainonen's Flames of Paris; the Pas de Deux from Petisa's Satanella; and choreographies by Rumen Rashev: Andante, with music by Mozart, Piazzolla's Tango, and Sirtaki, composed by Theodorakis.
Given the high level of preparation required in order to take part, previous winners of this competition have become world famous ballet dancers, among them Julio Bocca (Argentina), Amparo Brito Gonzáles (Cuba), Nina Semizorova (Russia), Nina Ananiashvili (Russia), Marina Leonkina (Russia), and Cristina McDermot (Switzerland).