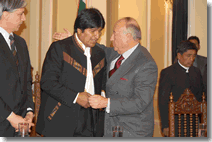 About 1.5 million Bolivians will benefit from access to water and sanitation
July 28, 2009
The US$44 million loan will support the PROINSA sanitation investment program to be executed in Cochabamba, El Alto and Santa Cruz.
(La Paz, July 28, 2009).- In a formal ceremony in the Quemado Presidential Palace, in the presence of Bolivian President Evo Morales and government authorities, CAF President & CEO Enrique García signed a loan agreement for US$44 million with Development Planning Minister Noel Aguirre and Water and Environment Minister René Orellana. The loan will be used to execute the
Water, Sanitation and Drainage Program
.
García said, "this operation was approved to support the country with the development and execution of priority studies and projects in the sectors of potable water, basic sanitation, urban drainage and irrigation, which will improve the quality of life of around 1,500,000 people in low-income sectors in various cities and regions of Bolivia."
The set of social projects will be implemented in marginal areas of the cities of El Alto and Santa Cruz, as well as Cochabamba Department. The executing agency is the Ministry of Water, which will coordinate each project with entities such as Empresa Misicuni, EPSAS (El Alto), and the Santa Cruz Municipal government.
Program description
The investment program will finance three investment projects with priority for the country: Misicuni Multiple Project whose objective is to cover the potable water deficit in the Central and Low Valleys of Cochabamba (Cochabamba, Sacaba, Cocapirhua, Tiquipaya, Quillacollo, Vinto, and Sipe Sipe municipalities) by constructing a 120-meter high dam which will be partially financed with a new amount of US$6.9 million.
The second project is construction and operation of a Sewage Treatment Plant for District 7 of El Alto, which is an area of peripheral settlement which suffers from serious deficiencies in provision of services of potable water and basic sanitation. The plant will supplement the work that EPSAS is doing to expand coverage of potable water in El Alto city from 40% to 93% and the sewage system from 0.1% to 93%.
The finance will also be used in urban sanitation and drainage projects in Santa Cruz to improve the storm water and sewerage service in the north and south east of the city, which are affected by frequent flooding during the rainy season. Construction of the drainage projects will benefit an estimated 750,000 people. The projects include construction and/or coating of four drainage channels and their supplementary works, construction of two regulation ponds, and implementation of maintenance and environmental management plans.