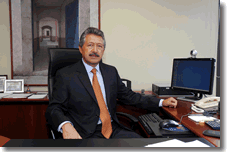 Hermann Krützfeldt, the agency's new director in Ecuador
July 03, 2009
This professional with extensive experience in the financial sector has been appointed CAF's director in this Andean country
(Special, July 3, 2009). - The Corporación Andina de Fomento (CAF) has appointed Hermann Krützfeldt Sciaroni as its director and representative in Ecuador. This professional, who has vast experience in the international financial sector, took office on July 1.
For the six years before his appointment Krützfeldt was CAF's deputy director in Bolivia and prior to his joining the Corporation he occupied management and executive positions of considerable responsibility in major financial institutions in Bolivia, the United States, England, Mexico, and Uruguay.
Hermann Krützfeldt has a Master's in Business Administration from the American Graduate School of International Management (Thunderbird) in Arizona, USA, and has had a long professional career.