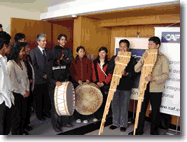 Sponsorship for Experimental Orchestra of Native Instruments of Bolivia
(La Paz, August 17, 2009).- The Andean Development Corporation announced its sponsorship of the performances of the Experimental Orchestra of Native Instruments (OEIN) at two prestigious festivals of contemporary culture and music to be held next month in Austria and Italy.
"As part of its constant support for culture, with this sponsorship CAF aims to disseminate the traditional cultural values of Bolivia to the world, contributing to the conservation and development of music, as one of the components of national heritage, which in turn contributes to strengthening Bolivia's international image for the benefits of all its citizens," CAF representative in Bolivia, Emilio Uquillas, said.
The announcement of the European tour was made in the presence of the Minister of Cultures Pablo Groux; Cergio Prudencio, director and founder of the OEIN; and Daniela Rodríguez, representative of the concert organizers. The organizers said that the orchestra had been invited to participate in the festivals of Klangspuren in Austria and Transart in Italy - widely recognized cultural events in Europe. The orchestra received the invitation because it is considered the best representation of the contemporary cultural potential of Bolivia "which intelligently unites the traditional and innovative."
The repertoire to be presented includes aesthetic and technical diversities and the compositions: "Y allá andará según se dice" of Graciela Paraskevaídis (Argentina/Uruguay); "La permanencia" of Canela Palacios (Bolivia); and "Cantos crepusculares" and "Cantos ofertorios" of Cergio Prudencio.
As a work of religious sensibility, the first performance of "Cantos ofertorios" will mark the tour with sounds which invoke the prayers of the Yatiris during their offerings. "Its interpretive expression will be connoted as a devotional prayer without words," Prudencio said.
The Orchestra will represent the country at the two festivals as musical group Ambassador of La Paz Leader in honor of the bicentenary of independence. This message will be especially relevant because the host regions of the festival are also celebrating the 200th anniversary of their struggle for freedom.
The Orchestra is also sponsored by the Ministry of Cultures and the Siemens Foundation for Music (Ernst von Siemens Musikstitung), institutions which permanently support Bolivian talent.