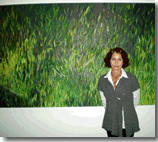 CAF Artespacio offers "Land Escapes" of Raquel Schwartz
(La Paz, September 3, 2009).- CAF Artespacio has been the venue since yesterday of the "Land Escapes" exhibition by recognized Bolivian plastic artist Raquel Schwartz. The content of the exhibition is presented through two visual expressions: painting and video.
Schwartz, with extensive studies in ceramics and sculpture at Santa Barbara City College (California, USA) and other academic centers, is one of the leading international exponents of Bolivian art. Since 1992 she has been setting trends in the country with experimental work in ceramics, through which she shows new forms and mediums, giving rise to multiple interpretations of her creations.
According to the celebrated painter, Cecilia Lampo, the exhibition - in title and synthesis of content - is a pun which reflects on landscapes, territories and escape. "Raquel's Land Escapes gives us access to fiction, transmigrates daily life and creates - although only for a few brief moments - spaces of peace and tranquility."
With this inspiration the exhibiting artist explores landscapes of water, grass and flowers, presented as almost abstract territories. "More than simple panoramas of nature, they are entrances into worlds of color, light and shade, which are captured in landscapes and territory," Raquel explains.
The work of the Santa Cruz artist, presented in CAF Artespacio, takes the visitor into genial spaces and mysterious worlds which promise a universe of fable and mythology. The exhibition is open in Artespacio, in Av. Arce Nº 2915 esq. Clavijo (San Jorge) from 8:00 to 12:30 and 14:30 to 18:00 until next September 29.