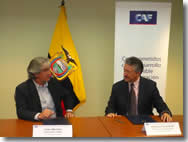 Continuing support for Ecuadorian automotive industry.
September 28, 2009
The project will improve and support the competitiveness of automotive suppliers
(Quito, September 28, 2009).- CAF and the Ecuadorian Automotive Industry Chamber (CINAE) signed a non-reimbursable technical cooperation agreement to continue implementation of the Management Model for Competitiveness (MGC) in the sector. The agreement was signed by Hermann Krutzfedt, CAF director-representative in Ecuador, and Juan Bermeo, president of CINAE.
Under the model promoted by the multinational General Motors, suppliers involved in the project incorporate the international standards of the parent companies of the industry into their work processes, improving their levels of competitiveness in terms of quality, technology, service and price.
Krutzfedt said, "CAF's support will strengthen the Ecuadorian and regional automotive sector, helping it reach levels of world class performance. Implementation of the project is also expected to generate more sources of employment and higher quality products and services."
The project continues the process of adaptation and transfer of the Management Model for Competitiveness MGC which began in 2007 with 11 suppliers in the Ecuadorian automotive sector located in Quito and Cuenca from various sectors of the industry (tires, exhaust systems, electrical systems, among others). Six of these suppliers are already exporting part of their production to Colombia and Venezuela; however, with implementation of MGC, they will be able to market their products in any part of the world thanks to the high level of competitiveness they will achieve through the project.
This project is one of the lines of action of the Competitiveness Support Program (PAC) which stimulates productive sectors with potential, and favors initiatives to improve competitiveness in the region.