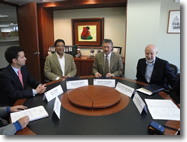 Agreement to strengthen social and trade links between Ecuador and Bolivia signed with Bolivian Embassy
October 23, 2009
The cultural activities will reach a public of 5,000 people
(Quito, October 23, 2009). On October 23, Hermann Krützfeldt, CAF director-representative in Ecuador, and Juan Javier Zárate, ambassador of the Plurinational State of Bolivia in Ecuador, signed a technical cooperation agreement to strengthen and consolidate bilateral relations of socio-cultural and economic-trade cooperation and integration between Bolivia and Ecuador.
At the signing, Krützfedlt said, "CAF's support demonstrates once more the Corporation's commitment to regional integration processes in both trade and culture which are fundamental for understanding the national characters of our peoples and for working toward regional integration.
In the cultural area, the agreement covers the holding of the III Cultural Encounter "Year of the Bicentenary" with events which share Bolivia's cultural richness and diversity with the Ecuadorian people.
In the trade area, a market study will be commissioned to identify potential Bolivian products which could be marketed in Ecuador. Plans also include the holding of a business networking meeting (rueda de negocios) in Ecuador with Bolivian producers and Ecuadorian buyers to promote sustainable trade links by negotiating agreements on business and trade cooperation.
Caption: Jairo Tiusabá, CAF public policy and competitiveness executive; Juan Javier Zárate, ambassador of the Plurinational State of Bolivia; Hermann Krützfeldt, CAF director-representative; Juan Ibarnegaray, commercial attache of the Plurinational Embassy of Bolivia