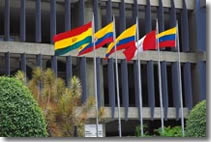 BBVA and CAF promote Latin American participation in world context
October 01, 2009
The two institutions signed a collaboration agreement
The announcement was made during the Annual Meeting of LACEA and the LAMES Econometric Society
With this agreement they join forces to contribute to the integration of Latin America in the world context
(Buenos Aires, Argentina, October 1, 2009).- A collaboration agreement for exchange of information on research was signed by BBVA and the Andean Development Corporation with a view to contributing to the integration of Latin America in the world context.
Under the agreement, the institutions agree to exchange analysis on the macro and sectoral situation of Latin America and the global economy. They will also seek to work in a way which complements the strengths of each institution in the countries and on the problems of the Latin American region.
BBVA and CAF also plan to undertake joint research projects in areas of mutual interest to open paths which facilitate the participation of Latin American countries in other markets.
The agreement was announced by Alicia García-Herrero, BBVA chief economist for emerging markets, and Leonardo Villar, CAF vice president of development strategies and public policies, during the annual meeting of LACEA (Latin American and Caribbean Economic Association) and the LAMES Econometric Society (Latin American Meeting of the Econometric Society) in Buenos Aires, Argentina.
BBVA is a global group which enjoys a solid leadership position in the Spanish market where it was founded over 150 years ago. The group has a leading franchise in South America; it is the largest financial institution in Mexico, holds an important position in the United States, and is one of the few large international groups with presence in China. BBVA employs over 103,655 people in over 30 countries around the world, with more than 47 million customers and 923,000 shareholders.