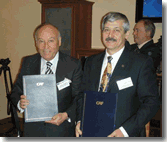 CAF builds new ties between Latin America and Russia
October 14, 2009
CAF President & CEO visited the Russian Federation with the objective of stimulating investments, trade and bi-regional cooperation.
(Special, October 14, 2009). As an opportunity to stimulate investments, trade and cooperation between Latin America and the Russian Federation, CAF President & CEO Enrique García visited Moscow and St Petersburg, accompanied by a delegation from the Corporation.
The work agenda in Moscow and St Petersburg included meetings with the vice minister of Foreign Affairs, Sergey Ryabkov; president of the Russian Bank for Development and Foreign Economic Affairs (Vnesheconombank), V.A. Dmitiev; vice president of the Russian Chamber of Commerce, G.G. Petrov; and a round table in the Center for Development and Cooperation with the countries of Latin America (CDCPAL).
The CAF president said that this visit, like the recent one to China, takes into account the new international economic and financial configuration, the important role the BRICs are playing in the world economy, and CAF´s commitment to supporting countries in opening new horizons in Russia by acting as a valuable bridge between the two regions.
The vice minister of Foreign Affairs underscored the Corporation's leadership in Latin America, and its performance in recent years. He emphasized Russia's interest in strengthening cooperation between CAF and his country's public and private sectors, reflecting the government's desire to further develop Russian-Latin American relations.
The CDCPAL round table in St Petersburg brought together organizations from the most important economic and financial sectors. The two organizations also signed a memorandum of understanding on exchange of information, and evaluation and preparation of investment and trade projects between St. Petersburg and Latin America
At the end of the visit, the two banks agreed to sign a memorandum of understanding to deepen cooperation and explore mechanisms for working together, such as cofinancing, lines of credit, exchange of information, among others. A visit by Russian government agencies to the CAF headquarters in Caracas was also agreed, along with the joint organization of a business seminar in 2010.