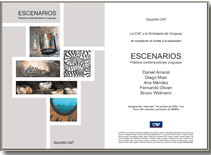 CAF Gallery exhibits works of five important Uruguayan plastic artists
October 27, 2009
SCENARIOS is a collaboration between the Uruguayan Embassy and CAF
This contemporary show reflects great South American talents
(Caracas, October 27, 2009). CAF Gallery proudly presents a collection of 20 works created by five Uruguayan plastic artists. Despite the distance and cultural diversity which thousands of kilometers create, these works unite in "staging" fluid, visual, conversations free of formal language or borders.
Flat figures which dance on the surface ... geometric movements in black and white which jump out of the background ... landscapes which take us to mythical journeys ... realities and memories painted with emotion ... vibrant abstract vitality ... This is SCENARIOS. The outstanding artists represented in this impressive collective show are Bruno Widmann (Montevideo 1930), Daniel Amaral (Rocha 1951), Diego Masi (Montevideo 1965), Fernando Oliveri (Montevideo 1967), and Ana Méndez (Salto 1974).
Each piece constitutes a representation of reality, a form of communication through art which transcends the Latin American identity in search of a universal vision. The diversity of expression ranges from the everydayness of a still life to the image of a possible weave of a backdrop.
The collection celebrates the inclusion of the Republic of Uruguay as a full member of CAF. SCENARIOS is an excellent opportunity to get to know more about the Uruguayan contemporary artistic offering.
As part of its continuing support for the dissemination of Latin American art and the cultural integration the region, for 12 years the CAF Gallery has been a space which supports and disseminates Latin American art, presenting to the public the most representative exhibitions, artists and tendencies.
Virtual Catalog: Catálogo Uruguay
SCENARIOS: Exhibition of Uruguayan contemporary art CAF Gallery Addres: Avenida Luis Roche, Torre CAF, Altamira Open: Monday to Friday 10:00 am to 5:00 pm – Sunday 11:00 am to 3:00 pm