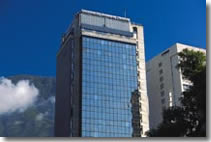 CAF returns to Peruvian market with successful issue in local currency
October 01, 2009
The amount of the placement was 144,250,000 soles
(Lima, October 1, 2009).- CAF placed a bond issue today through a public offering for 144,250,000 soles (approximately US$50 million), its fourth issue in Peru. The initial public offering was for a local currency amount equivalent to US$40 million; however, due to heavy demand, which almost doubled the initial offering, the amount was increased to the equivalent of US$50 million. This is the largest issue in the Peruvian market in the last year.
CAF President & CEO Enrique García said the Corporation had been promoting development of the Peruvian capital market by making frequent issues and offering investors who participate in the local market alternatives for diversification.
The funds from the placement will be used for the Corporation's general operations whose main purpose is to promote the economic and social development of Latin America.
The bonds, with maturity in 2014, were issued under the 500 Million Soles Program, which the Corporation has registered in the local Peruvian market. The structuring and placement agent for the operation was Citibank Peru.
Past issues in Peru
As part of its strategy of contributing to the development of regional capital markets, CAF had previously issued "Condor" bonds in Peru in 2003 and 2005, targeted at institutional investors from Peru and the rest of the Andean region. Later in 2006, the Corporation made a local currency issue for 248 million soles, which at that time was equivalent to US$75 million