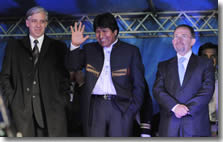 CAF Signs $250-Million Loan Agreement with Bolivia for La Paz-Oruro Highway
October 21, 2009
The road is part of the Fundamental Road Network and is one of the main integration routes in Bolivia's countryside and with neighboring countries.
The construction of the divided highway will alleviate one of the worst problems in this route, which is the high traffic accident rate
(La Paz, September 19, 2009).- CAF signed today a USD 250-million loan agreement with the Plurinational State of Bolivia to fund 80% of the construction of the La Paz-Oruro highway, which will be financed also with counterpart funds from municipal governments of both departments and other sources. The purpose of this operation is to increase service capacity of the route and improve the current traffic and safety conditions. The executing entity will be the Bolivian Road Administrator (ABC).
The agreement was signed at the Presidential Palace, in the presence of the President of Bolivia, Evo Morales; the Minister of Planning for Development, Noel Aguirre; ABC Executive President Luís Sánchez Gómez; CAF Director-Representative in Bolivia, Emilio Uquillas, among other authorities.
Last September, the CAF officially approved the loan, Executive President Enrique García highlighted the direct benefits of the project, such as boosting the national economy and social progress of the communities around the road, reducing transport costs based on shorter travel times, and reducing accident rates, which was significantly increased in recent years due to the narrow road.
The project
The 204-kilometer road is currently 7 meters wide. The project establishes—depending on the topography of the terrain along the way—the construction of a parallel road to be alternated with the extension of the current roadway (dual highway), using the same platform. The result will be a divided highway, with one two-lane road in each direction along the entire route. In the medium and long term, the road is expected not only to enable better connectivity within the country, but to facilitate productive development in the area of influence, promoting social progress of surrounding communities by helping establish new production centers, thus creating new jobs. As part of the loan conditions, the executing agency will implement a service and advocacy program for the communities impacted by the project.
Similarly, the project will develop foreign trade corridors with neighboring countries, specifically by consolidating the east-west corridor, which enables access to Pacific ports in Chile and Peru, as well as one port on the coast Atlantic, in Brazil.
For CAF, the operation will promote productive, social and economic integration at the national and regional levels, ultimately leading to an improved logistics platform, with a view to achieving complementarity with countries of the region.