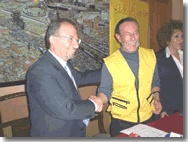 First 3,600 La Paz walking race presented jointly with city government
October 21, 2009
The multilateral development bank's initiative is backed by the La Paz city government and leading private companies.
The National Police, the Traffic Operations Unit and the Bolivian Red Cross are cooperating with the event.
(La Paz, October 21, 2009).- As part of its permanent support for promotion of sport as a tool for strengthening human potential, CAF today announced, jointly with the La Paz city government as principal ally, the first "3,600 La Paz Walking Race." The initiative is supported by private companies from various sectors as part of their social responsibility policy.
The race will be held on Sunday, November 15 starting at 8 am over a 10-km course between the bus terminal and the Hernando Siles stadium. Athletes and sports fans are invited to take part - both men and women - in four categories: under 30, 30 to 45, over 45, and people with special capacities.
CAF director representative in Bolivia Emilio Uquillas said the main motivation for organizing the race was the financial organization's commitment to the integrated development of its member countries, including sport which has a key place. "CAF also wishes to join in the bicentenary celebrations by creating incentives for the practice of sport and a healthy life among the citizens of the Bolivian capital. This kind of race is common in other cities of the world and La Paz should have an event which we hope will be repeated year after year so that sport becomes a fiesta in the city," he said.
He emphasized the "enormous predisposition and backing offered by the city government, without which this activity would not have been possible." He also thanked the "great enthusiasm and receptiveness to the initiative by the business community, which has made a generous contribution in resources and time to achieve the desired success."
La Paz Mayor Juan del Granado said his government supported the initiative because it is an action which defends the right to practice any sport at an altitude of 3,600 meters.
The race will start from bus terminal and cover the route: avenida Perú, calle Sucre, avenida Tejada Sorzano, Plaza Villarroel, avenidas Busch and Brasil, calle Lucas Jaimes and Rosendo Villalobos, avenidas Zabaleta, Los Leones and Bautista Saavedra, Plaza San Martín, calle Hugo Estrada, ending at the South Curve of the Hernando Siles Stadium.
For people interested in participating registration, which is free, opens on October 26. The main requirement is presentation of identity card or passport.