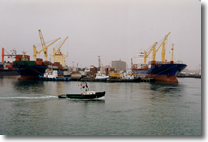 Integrated support for Chaco province
October 26, 2009
CAF favors an integrated approach and financing for development of the province
The representative of the multilateral organization in Argentina visited Port of Barranqueras
(Buenos Aires, October 26, 2009).- Less than a month ago CAF granted non-reimbursable technical funds to the Port Administration, Port of Barranqueras for preparation of the pre-investment study for infrastructure development in the port. To follow up the project, CAF director representative in Argentina María Ángela Holguín visited Chaco province where she signed the agreement.
Accompanied by Provincial Governor Jorge Capitanich and Inspector of Fiscal Muelle Dock, Roberto Benítez, the CAF executive toured the Port of Barraqueras and sailed along the creek of the same name to obtain an overview of the project and the study needed to authorize an investment of about 15 million pesos. During her visit Holguín told the local press, "In CAF we are looking at how we can offer integrated support to Chaco as Argentina's poorest province." "We are fostering the creation of development poles linked to the railway; in fact, I see here a total symbiosis between train and port which can develop into an impressive pole for the region." With preparation of the Master Plan, the Port Administration - Port of Barranqueras - executing agency of the funds - will determine the current situation of the market serviced by the port and its potential by analyzing medium and long term trends. The next step will be to design strategies to improve the port's positioning in the national and international context, and specifically, in the Argentine port system through integration with other transport networks. The Master Plan includes a complete property and land survey of 14 km of the bank of Negro River and defines the works needed for expansion of the dock. "The study will cover the port and all the adjacent development area in order to assess the need for dredging and constructions in this major investment project," Holguín said, noting the availability of specialized consultants in the Puertos de Primera (First Class Ports) program. The study will take eight months to complete.
Another component of the Master Plan is commissioning a market study to identify the types of merchandise which are feasible for entering and leaving the port and consequently whether infrastructure is needed to improve bulk or container operations, or both.