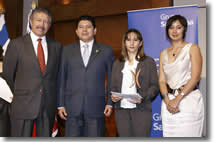 Recognition of educational excellence in Ecuador with Edu@news and FIDAL
(Quito, October 22, 2009).- On October 21, in the Saint Moritz Room of the Swissotel, the Foundation for Integration and Development in Latin America (FIDAL), Edu@news and CAF held the award ceremony for the winning teachers in the second annual Educational Excellence Competition 2009.
The competition promotes the qualitative improvement of Ecuadorian education and research by recognizing experiences of excellence developed by teachers in the pre-university system in Ecuador.
On this occasion 83 innovative projects related to technology, research on education issues, actions in favor of community management, pluralism, diversity and inclusion were received. A national jury for the competition was formed by 12 experts. The 43 finalist projects were then analyzed by the international jurists: José Antonio Fernández, Spain; Eduardo Castro and Daniel López, Chile; Arvelio García, Cuba; and Axel Ramírez, Mexico, who selected the projects for the educational excellence prize in the categories innovative curriculum design, education for inclusion, training for work, technology applied to education, environmental education, community development, quality teaching plans and quality teaching resources, and affective, poetic, moral and civic development .
The chosen projects will be published in a book with the objective of replicating them in other schools. Last year, the projects were implemented in Chile and the Dominican Republic.
The recognized teachers received scholarships and traineeships at national and international level, professional improvement courses and seminars, statuettes and books.
FIDAL A non-governmental national and international development organization involved in cooperation, coordination and assistance in the areas of education and training, including generating a sustainable environmental awareness. For more information visit the page:www.fidal-amlat.org