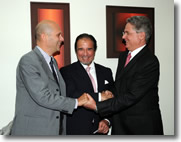 Termoflores signs US$150 million loan agreement with CAF, DEG and IFC
October 01, 2009
The funds will be used for construction of the Flores IV project, which will expand the generating capacity of the Termoflores plant by 38%.
This is the first long-term financing (11 years) granted by the multilateral banks based on the Reliability Charge regulation.
The Colombian power generating utility Termoflores S.A. E.S.P., wholly owned by Colinversiones S.A., today signed a loan agreement with CAF (Andean Development Corporation ), DEG (Deutsche Investitions-Und-Entwicklungsgesellschaft MBH), and IFC (International Financial Corporation). The 11-year loan will be used to finance the Flores IV project, currently under construction in the power plant located in Barranquilla, Colombia.
The total credit provided by the multilateral banks is US$150 million, as follows: CAF US$62.5 million, IFC US$62.5 million which includes US$10 million from CIFI (Inter-American Infrastructure Finance Corporation), and the remaining US$25 million from DEG. The project has a total cost of US$188 million
With this first long-term finance obtained by a power generating project based on the Reliability Charge regulation, the multilateral banks are giving a clear sign of confidence and support for the Colombian electricity sector.
For the approval process, the multilaterals made a detailed analysis of the technical aspects of the Flores IV project and the socio-environmental management plans, which they endorsed because of their design and quality.
Flores IV
The project consists of closure of the simple cycles of Flores II and Flores III, adding a steam turbine which will increase existing capacity by 169 MW from 441MW to 610 MW in December 2010 when it comes into operation. The expansion uses advanced technology which offers important environmental benefits and increases power production without consuming significant additional gas, thus improving the plant's efficiency. In April this year Termoflores obtained authorization to operate as a Special Permanent Free Zone.