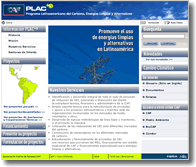 The carbon market has a new window in Internet
October 27, 2009
With a revamped sub portal, CAF makes more information available on the Latin American Carbon and Alternative Clean Energy Program (PLAC+e).
The new site contributes to actions to reduce global warming.
Caracas, October 27, 2009).- As a contribution to actions aimed at combating global warming, CAF today launched the new revamped PLAC+e subportal in Internet (
www.caf.com/plac
). The site contains detailed information on the Latin American Carbon and Alternative Clean Energy Program.
With PLAC+E, program which dates from 1999, CAF is contributing to solving the problem of global warming and promoting the use of alternative clean energy in Latin America by developing and financing innovative projects. The idea is to promote and actively participate in the development of the greenhouse gas (GHG) emissions reduction market with the participation of the public and private sectors.
The program helps countries, productive sectors and projects to find buyers and in general strengthens demand for reduced GHG emissions for the region; provides technical support in the form of intermediation and financing for projects with potential to reduce GHG emissions; strengthens national institutions and mechanisms for stimulating and consolidating this market; and provides specialized financing to the countries of the region to identify and develop alternative clean energy and energy efficient projects.
Examples of some of the successful projects executed with support from PLAC-e are shown on the revamped website including: the Bogota Transmilenio System (Colombia); ENERMAX Hydroelectric Project (Ecuador); Cogeneration project with sugarcane pulp Jalles Machado S.A (Brazil); La Calera Biogas (Peru); Río Taquesi Hydroelectric Project (Bolivia); Biogas Capture from the Bioorgánicos del Otún project (Colombia); Xacbal Hydroelectric Project (Guatemala); and Wigton wind park project (Jamaica) among others.
From today visitors to the site will be able to find out more about the Program, including projects developed by country and how to apply for finance.