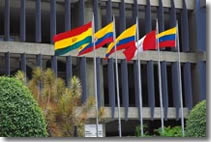 US$1 billion support for Panama over the next three years
October 30, 2009
On an official visit to the country CAF President Enrique García met with the Panamanian President and the Minister of Economy and Finance.
An agreement was signed to increase Panama's capital contribution by US$55 million, in addition to the US$170 million subscribed in September 2008.
(Special, October 30, 2009).- CAF President & CEO Enrique García reaffirmed the multilateral organization's commitment to Panama, announcing that the financial institution would make US$1 billion available to the country over the next three years to meet national development needs.
During his official visit to Panama City, García met with Panamanian President Ricardo Martinelli and Economy and Finance Minister Alberto Vallarino in Garzas Palace. After the meeting García said, "CAF is accompanying the development processes of Panama very closely, and these funds which we are making available are to help the country in the current situation and in the long term."
As part of the capital strengthening which CAF is currently undergoing, the CAF president and Minister Vallarino signed the agreement to increase Panama's capital in the financial institution by US$55 million in the presence of President Martinelli as witness of honor. This amount is added to the US$170 million which Panama subscribed to the capital in September 2008.
The agreement follows the decision by the CAF Board last August to increase the paid-in capital in order to meet the heavy demand for loans received in the wake of the world economic crisis by strengthening its capacity to support the development of the region in the long term.
Relations between CAF and Panama
Panama has maintained close relations with CAF since it became a shareholder in 1997, particularly the operations in favor of the Binational Bridge over the Sixaola River, and the Interoceanic Road Corridor Infrastructure Program, among others.
In 2008 Panama became a full member of CAF, reflecting the organization's Latin American and Caribbean identity. CAF's presence in Panama has also been strengthened by the opening of its office in Panama City at the beginning of this year.
CAF is currently financing important activities such as the Panama Canal Expansion Program, the Highway Rehabilitation and Improvement Program, the Metro Pre-investment study, support for the Banco Nacional de Panamá, and has defined together with the government support for the national electricity sector, social infrastructure projects in the area of water and sewerage, sanitation, and others.
Since becoming a CAF member, Panama has received approvals totaling almost US$900 million, mainly in the integration infrastructure area, along with funds for economic infrastructure projects, and others in which CAF participated with non-reimbursable funds.