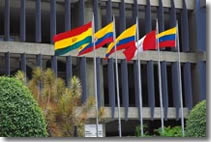 Agreement signed with Ceddet in Spain
November 12, 2009
This initiative provides support for national governments and territorial and regional public administrations.
Under the agreement, Spain's unique knowledge and experience in training will be shared with Latin America, contributing to modernization of key institutions in the region.
(Special, November 12, 2009).- During his visit to Spain, CAF President & CEO Enrique García signed a framework agreement with Miguel Ángel Feito, director general of the Center for Distance Learning for Economic and Technological Development (Ceddet). The agreement promotes joint actions aimed at the modernization of key institutions in Latin America.
After the signing Garcia said, "For CAF the social dimension of development has priority, particularly sustainable human development, with the objective of reducing poverty and creating a Latin America with greater equality." "The Corporation achieves this objective by building social capital, which is why we value alliances with organizations, such as Ceddet, which contribute knowledge to the region."
With the agreement both organizations are offering support to national governments and regional public administrations in the form of teaching projects, technical assistance, and training of human resources. These actions are based on learning through the Internet and creation of virtual networks of experts who contribute to the growth of professional human capital in the public administrations of Latin America. This dynamic lays the base for a favorable investment climate and stable economic and social development.
Ceddet is a non-profit organization dedicated to cooperation for development set up jointly by the Spanish Ministry of Economy and Finance and the World Bank. Its mission is to cooperate on improving the management capacities of public administrations by exchanging knowledge and experiences, using the methods and tools developed by the new information and communication technologies.