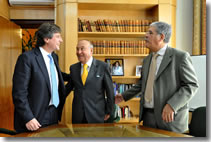 Argentina increases its capital in CAF
November 04, 2009
This is the second subscription since the country became a full member in 2007.
The ceremony took place in the Ministry of Economy and Public Finance during the official visit of CAF President Enrique García.
(Buenos Aires, November 4, 2009).- CAF President & CEO Enrique García, on an official visit to Argentina, during a solemn ceremony in the seat of government, signed, with Amado Boudou, Minister of Economy and Public Finance, the agreement to increase Argentine capital in the Corporation by US$190 million, in addition to the US$543 million subscribed in October 2007. Planning Minister Julio De Vido was present at the signing as witness of honor
García emphasized the importance of this increase in equity holding, which evidences the confidence deposited by this country in the Latin American financial institution. "It is a recognition of CAF's catalytic role and valuable contributions to sustainable development and regional integration. It also confirms the intention of the Corporation's shareholder countries to strengthen their equity capital in order to deepen its actions in the region," García said.
The relation between CAF and Argentina has strengthened exponentially since the entry of the nation as shareholder in 2001. The amendment to the Establishing Agreement opened membership to all Latin American and Caribbean nations with the same rights as the founding members. In the framework of this amendment, in 2007 Argentina formalized its equity subscription and became a member country, along with Brazil, Panama, Paraguay and Uruguay.
Since then, CAF has approved a total amount of US$2 in favor of Argentina, destined for the sectors of economic and integration infrastructure, financial assistance, along with non-reimbursable funds in favor of Argentine development and focused on areas of governance and social capital.