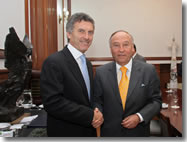 Better public transport for Buenos Aires
November 03, 2009
Enrique García and Mauricio Macri signed an agreement which grants non-reimbursable funds to the Government of the Argentine capital.
CAF gives priority to supporting urban transport systems as a means of improving the quality of life of citizens and making cities more competitive.
The funds will help the city government to develop the conceptualization and implementation of a Bus Rapid Transit system.
(Special, November 3, 2009).- During his official visit to Argentina, CAF President & CEO Enrique García signed a technical cooperation agreement with Buenos Aires Mayor Mauricio Macri for a study of the Bus Rapid Transit (BRT) System to be implemented in the capital city. The non-reimbursable funds come from the Fund for Promotion of Sustainable Infrastructure Projects (Proinfra) set up by CAF in 2006 to improve the quality of infrastructure projects.
After signing the agreement García said, "with these funds CAF is providing technical and financial support for the Government of the City of Buenos Aires to develop studies on conceptualization and implementation of a new Bus Rapid Transit System." "The multilateral institution is constantly contributing to the social development of its shareholder countries by promoting modernization of their cities through provision of efficient urban transit systems which improve the quality of life of citizens and make the cities more competitive," he added.
For over a decade, CAF has been accompanying the development and financing of urban mass transit systems in various cities of the region. About 30 projects of this type have already been developed and over ten operations are under way. Examples include the financing granted to Caracas (metro and urban train system), Bogota (Transmilenio), Guayaquil (road system), Lima (electric train), Panama City (metro). BRT projects are increasingly important in the cities of the world, especially Latin America; for this reason CAF is supporting their planning and implementation in several large cities in the region.
The project is expected to have a high impact on the efficiency of the urban mass transit system of Buenos Aires which serves a resident population of about three million, and three million more who commute into the city daily from the metropolitan area where some 13 million people live. It is important to improve the infrastructure because, as in many cities, the declining use of public transport is a serious problem in Buenos Aires.