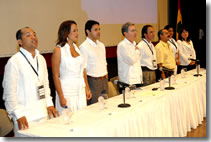 Closure of fifth Leadership for the Transformation Program in Colombia
November 20, 2009
A total of 970 graduates from all regions of the country traveled to Cartagena to attend closure of the course.
(Cartagena, November 20, 2009).- With the participation of Colombian President Álvaro Uribe, the fifth Leadership for the Transformation Colombia Program was closed in Cartagena. The program is sponsored by CAF and executed in alliance with the Advanced School of Public Administration (ESAP).
The Leadership of the Transformation Program, which this year graduated 970 citizens, is one of the lines of action promoted by CAF in the area of governance. The initiative operates in five Andean countries, and until 2009 had trained 14,411 leaders in 2,186 municipalities in Latin America.
President Uribe led a debate on leadership with the young graduates. Among other points, he said, "a good leader is characterized by his confidence, his studies and his integrity" and emphasized the importance of maintaining credibility in public life.
The main objective of the program is to identify, select and train natural leaders - men and women - in vision of country and civic democratic values, who can prepare the base for a new style of leadership by enriching their value systems and equipping them with tools so that they can take on the responsibilities of future leadership with a deep ethical, civic and democratic sensibility, in accord with the reality of their context.
The strategic value of the program lies in the importance of training as a mechanism for strengthening democratic governance and improving the conditions of citizens and their environment.
Since 2002, CAF and ESAP have been working together to develop this program, which in its years of operation in Colombia has trained citizens from rural and urban areas from youth, citizen monitor, teacher, indigenous and campesino organizations, among others.
These community, municipal and social leaders are young people from 23 training centers located in the departments of Antioquia, Atlántico, Boyacá, Casanare, Cauca, Cesar, Cundinamarca, Guajira, Magdalena, Huila, Nariño, Santander, Norte de Santander, Tolima, Valle, and San Andrés Island.