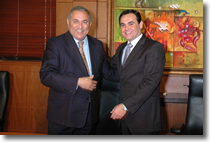 Dominican Republic announces increase in its capital
November 26, 2009
The increase is part of the capital strengthening of the Corporation.
(Santo Domingo, November 26, 2009).- As part of the capital strengthening of the Corporation currently under way, the CAF director representative in Panama, Rubén Ramírez, and the Secretary of State of Finance of the Dominican Republic, Vincente Bengoa Albizu, signed an agreement to increase the Caribbean country's capital in the financial institution by US$17 million from its existing capital commitment of US$54.1 million.
The signing follows the decision by the CAF Board last August to increase the paid-in capital of the Corporation in order to meet the substantial demand for loans received as a result of the world economic crisis, and strengthen CAF's capacity to support the region's long-term development.
CAF President & CEO Enrique García said, "the increase in the capital held by the Dominican Republic is evidence of this country's confidence in the Corporation. The agreement is clear recognition of the institution's catalytic role and its valuable contributions to sustainable development and regional integration.
For his part, Vincente Bengoa said, "the government of the Dominican Republic has found in CAF important backing for financing projects in both the private and public sectors."
Since the Dominican Republic became a CAF member in June 2008, the institution has approved over US$116 million in favor of the country. The latest loan for US$41.5 million was for the Tourism Boulevard of the Atlantic (BTA). This highway which will significantly cut travel time between Santo Domingo and the Samaná peninsula, area with high tourism potential and whose development is priority for the government.
More operations are currently under evaluation for approval before the end of the year; one of which is likely to be the Urban and Habitat Development Project for US$80 million.