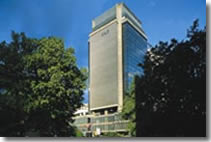 Funds approved for key tourism highway in the Dominican Republic
November 12, 2009
US$41.5 million approved for the Atlantic Tourist Boulevard project
The highway will improve access to Samana Peninsula, an area with high tourism potential.
(Special, November 12, 2009).- CAF approved funds of US$41.5 million in favor of the Atlantic Tourist Boulevard (BTA) in the Dominican Republic. The new highway will significantly cut travel time between Santo Domingo and the Samana peninsula, an area with high tourism potential whose development is priority for the government.
"The continuous improvement of the quality of life of Latin Americans is one of CAF's primary objective; for this reason it grants long-term loans to the private sector for execution of development projects," CAF President & CEO Enrique García said. "This highway will facilitate movement of the inhabitants of the region, producers, traders and tourists between the peninsula and the south of the country, stimulating the economic development of the area."
The project consists of rehabilitation of 99 km of existing roadway and construction of 24 km of new road between the city of Nagua and Samaná Península, in addition to the building of a new toll station.
The CAF loan is equivalent to 23% of the total investment whose approximate cost is US$177.5 billion, of which 84% comes from bilateral and multilateral financial institutions - including CAF - and the remaining 16% from BTA shareholders.
The Atlantic Tourist Boulevard will further improve access to Samana Peninsula, in addition to the previous improvements following the opening of El Catey International Airport and Juan Pablo Segundo Freeway between Santo Domingo and Samana, all of which will stimulate the development of tourism in this province.