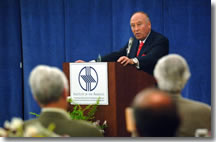 Institute of the Americas honors CAF President Enrique García
La Jolla, California.- The Institute of the Americas, located in the San Diego campus of the University of California, honored Enrique García, CAF President & CEO, on November 19 for his contribution to the political and economic development of Latin America during his extensive career in government and international financial institutions.
By granting the Leadership in the American Award, the Institute recognizes the important work of CAF and García's leadership in the institution. Announcing the award, the president of the Institute of the Americas, Ambassador Jeffrey Davidow, emphasized CAF's importance in the region, especially the fact that the organization has 17 member countries in Latin America, together with Spain and 14 private banks. Every year, the Corporation approves operations valued up to US$10 billion for regional development and integration.
Davidow said García, currently in his fourth term as CAF president, has demonstrated an unprecedented knowledge of Latin America and the Caribbean. He is considered to be one of the regional leaders in promoting associations between public and private sectors, and who has made possible CAF participation in social development programs in the region where inequality caused by the unequal income distribution is still one of the main challenges.
The award was presented during the dinner, which preceded the conference on "Critical issues in Latin America" held on November 20. This conference has become an important event for the intelligent debate of issues concerning the Western Hemisphere on the US west coast. The issues dealt with this year included: China's role in the hemisphere; drugs and violence with the possibility that the war on drugs has failed; and the multiple assaults on democratic institutions in Latin America.
Press inquiries will be dealt with by Vice President S. Lynne Walker at: Lynne@iamericas.org