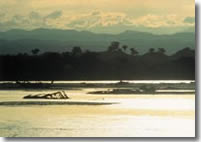 New opportunities for families in Sao Paulo
November 11, 2009
CAF approves non-reimbursable funds for the Socio-Environmental Inclusion Project of the Verdescola Institute in Villa Sahy, San Paolo, Brazil.
(Special, November 11, 2009). CAF's objectives include initiatives that favor the most excluded sectors of the population. As part of these actions the multilateral organization approved non-reimbursable funds in favor of the Socio-Environmental Inclusion Project of the Verdescola Institute located in Villa Sahy, Sao Paulo, Brazil.
"The idea - CAF President & CEO García explained - is to respond to the needs of the most vulnerable sectors of the population, as is the case with the inhabitants of Villa Sahy who suffer from serious problems of poverty and juvenile delinquency. The main aim of the program is to take young people off the street."
The Verdescola Institute, social organization of public interest founded in 2005, executes work to support the community by offering extra-curriculum programs in its facilities, as an educational supplement and to provide a safe environment for the children. At the same time, it supports the families, specifically the mothers of the community, by training them in sustainable productive projects.
The funds approved by CAF will expand the social inclusion program to cover more children and mothers in Villa Sahy and will start an environmental education pilot program directly in the community. The environmental training mechanisms will be implemented by means of various activities and distribution of specific material in an effort to educate the community and create awareness of conservation.