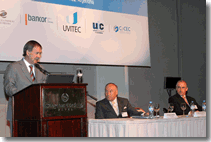 PAC celebrates 10 years stimulating local economic development and competitiveness in Latin America
"Local economic development and competitiveness: global cities and regions" was the title of the event organized by the Andean Development Corporation (CAF) with the government of Cordoba province, COPEC, and the Cordoba Technological Linkage Unit UVITEC (Cordoba Stock Exchange BCC, Cordoba Chamber of Foreign Trade CaCEC, Cordoba Industrial Union UIC). The meeting - held in the city of Cordoba, Argentina - was attended by officials, national and provincial authorities, experts, business leaders and representatives of international labor union sectors.
The event was opened by CAF President & CEO Enrique García, accompanied by Juan Schiaretti, governor of Cordoba province. García said, "As part of its commitment to the development of its 17 shareholder countries, CAF considers that competitiveness is a fundamental factor for achieving equity, stability and growth in the region." This is why - since 1999 - the Corporation has been promoting the Competitiveness Support Program (PAC) in whose framework this meeting is being held, he added.
The event was a platform for sharing experiences on competitiveness in Latin America with presentations by distinguished international experts. The over 200 participants included Latin American business leaders, representatives of the national and provincial public sectors of various Latin American countries, experts, academics, trade representatives, chambers of commerce, investment promotion agencies, development agencies, and other actors involved in local development.
The objective was to commemorate the tenth anniversary of the Competitiveness Support Program (PAC) which has been creating initiatives to improve productivity and regional competitiveness since 1999 by directly and indirectly fostering improvements in the business environment and sustainable capacity aimed at generating value by means of three (3) areas of action:
Development of clusters and productive and commercial capacity
Promotion of entrepreneurial capacity
Improvement of business climate
With a recognized track record in Latin America, PAC has successfully put the issue of competitiveness on the public and private agenda, by generating knowledge and developing methodologies for projects focused on demand and decentralized execution. The Program has built a network of over 472 strategic allies, including representatives of academia and the public and private sectors of the countries of the region. Over the last ten years, PAC has mobilized US$40 million and has achieved a position as a program which supports initiatives with high local impact and an inclusive view of development.
The agenda of the meeting is given below:
Opening Enrique García, CAF president & CEO Juan Schiaretti, governor of Cordoba province
Support for Competitiveness in Latin America Germàn Ríos, CAF director of public policies and competitiveness: "The Competitiveness Support Program (PAC): 10 years supporting productive transformation in Latin America." Joaquín Vial, BBVA chief economist for South America: "Challenges for the competitiveness of Latin America."
Local Economic Development and Competitiveness: Global Cities and Regions Greg Clark, director of Cities and Regions and professor of the Cass Business School of London: "Local development and competitiveness: global perspectives."
The Cordoba Experience Manuel San Pedro, president of UVITEC and corporate innovation manager of Arcor Group: "Innovation in the agro-food complex: from agro-technological package to biotechnology." Mario Barra, president of Cordoba Technology Cluster and Empresas Vate SA. The experience of the software cluster: "Cordoba Technology Cluster: past present and future."
Innovation and entrepreneurship in Cities Pier Carlo Sola, founder of Digital Port (Brazil). The Experience of Recife Digital Port: "Innovation and entrepreneurship in cities: Recife Digital Port." Gabriel Hidalgo, general manager of Octantis (Chile):"Dynamic entrepreneurship and local development in Latin America." Amaia Bernaras, director in Idom SA, (Spain): "The role of technology innovation centers: the case of the Basque Country."
Attracting investments and local productive vocation Michael Penfold, CAF deputy director of public policies and competitiveness. Local management in 23 Latin American cities: "Regional disparities, local management and economic development in Latin America." Virgilio Barco, executive director of Invest in Bogota public-private partnership (Colombia): "Investment promotion agencies for local development: the case of Invest in Bogota."
The future of competitiveness: What to do to find new sectors? Ricardo Haussman, professor of the Kennedy School of Government, Harvard University.
Closing session María Ángela Holguín, CAF director representative in Argentina Roberto Hugo Avalle, minister of Industry, Commerce and Labor of Cordoba Province.