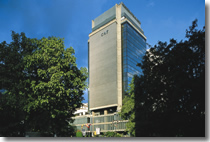 Portugal becomes CAF shareholder
November 30, 2009
This European country is the second non-regional member, bringing the total to 18 shareholder countries.
The agreement was signed at the XIX Ibero-American Summit of Heads of State and Government in the Portuguese city of Estoril.
(Estoril, November 30, 2009).- Portugal today became one of the 18 CAF shareholder nations, after the signing of the agreement by CAF President & CEO Enrique García, and Portuguese Minister of State and Finance Fernando Teixeira Dos Santos. The European country's membership was formalized by subscription of €15 million of ordinary capital and €60 million of guarantee capital, during the XIX Ibero-American Summit of Heads of State and Government in Estoril.
After the signing, Teixeira said, "for Portugal this membership is a strategic step in strengthening our economic, foreign policy and cooperation relations with Latin America, a region which is experiencing a growing presence of Portuguese economic agents in the internationalization of finance, trade and investment."
García emphasized the historic links which unite Portugal with the CAF shareholder countries. "We are committed to deepening links of cooperation between Portugal and our region especially in the economic, financial, trade and investment areas. With the presence of Spain and now Portugal, CAF has strengthened its Ibero-American dimension and reaffirmed its bridging role between Latin America and the European Union"
In the last three years the Corporation has approved about US$25 billion for its shareholder countries to support projects in the public and private sectors in areas related to infrastructure, social development, environment and productive sectors, with emphasis on small- and medium-sized enterprises. In addition, a substantial amount of non-reimbursable funds have promoted programs which stimulate entrepreneurship, competitiveness, strengthening of social fabric and border development, reaffirming CAF's catalytic role in regional integration.