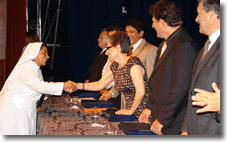 Promoting leadership in Ecuador
November 24, 2009
Third consecutive year of the Leadership Program promoted with ESPOL
(Guayaquil, November 24, 2009).- The Leadership for Transformation Program promoted by CAF and the Advanced Polytechnic School of the Litoral (ESPOL) this year trained 471 graduates.
The objective of the program is to identify, select and train natural leaders in vision of country and civic-democratic values in an effort to lay the base for a new style of leadership by enriching their value systems and equipping them with tools for assuming their responsibilities with ethical criteria.
Leadership for the Transformation is one of the lines of action which CAF focuses on in the area of governance.
Operating in the five Andean countries, until 2009 the program had trained 14,411 people from 2,186 Latin American municipalities.
CAF and ESPOL have been working together since 2007 to promote this program which in its years of operation in Ecuador has trained people from the rural and urban sectors belonging to youth, citizen monitor, teacher, indigenous, and campesino organizations, among others.