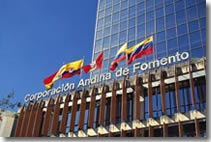 US$75 million loan approved for Bolivian highway sections "Tarabuco-Zudáñez, Zudañez-Padilla, and Monteagudo-Ipati"
November 10, 2009
The highway is part of National Route #6 Diagonal Jaime Mendoza which connects Chuquisaca with the rest of the country.
This new finance confirms CAF's contra-cyclical role
(La Paz, November 10, 2009).- CAF today announced approval of a US$75 million loan for the Pluri-National State of Bolivia to finance 73% of the cost of construction, paving and upgrading of highway sections Tarabuco-Zudañez, Zudañez-Padilla, and Monteagudo-Ipati, part of the Diagonal Jaime Mendoza national route which crosses various provinces of Chuquisaca department, and Cordillera province of Santa Cruz department. The amount will be completed with local funds.
Given the volume of vehicles which will use the highway, one of the great benefits of the project will be the substantial reduction in operating costs attributable to the paving of the sections, along with a reduction in accidents, gains in time due to higher speeds on the route, and increases in the flow of commerce as production in the area grows. The sections - totaling 174 km - are part of the National Highway System of the Basic Road Network, which connects the West-South and North-South integration corridors. The executing agency is Administradora Boliviana de Carreteras (ABC).
CAF President & CEO Enrique García said the approval confirmed the financial organization's commitment as reliable supplier of funds for investment initiatives which, in this case, are supporting a priority project for the integration, economic development and security of Bolivia. "The route will meet a deeply felt need in the region, and its execution will connect the population with Santa Cruz, El Chaco and Tarija with all the benefits offered by internal and external integration."
The objective of the operation is to finance paving works on the sections of the Diagonal Jaime Mendoza National Route which crosses farming communities in Zudañez, Tomina, Hernando Siles, Luís Calvo provinces of Chuquisaca department, and Cordillera province of Santa Cruz department.
The first 68.7 km-long section connects the localities of Zudañez and Padilla and the second 95.19 km section Monteagudo and Ipatí. The project includes construction of works to solve problems of unstable slopes due to geological faults in the area. Paving of a critical sector needed to complete the Tarabuco-Zudañez (9.5 km) section is also planned as well as financing for technical and pre-investment studies on these routes.