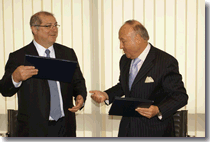 Brazil subscribes to capital increase and becomes full CAF member
December 08, 2009
The Brazilian Minister of Planning, Budget and Management visited the headquarters of the multilateral organization in Caracas.
Financing was agreed for a Program to support municipal and state government hosts to the 2014 Football World Cup with projects related to economic and social infrastructure, basic services and environment
CAF plans to finance investments for US$1 billion through the Program.
(Caracas, December 8, 2009).- As an demonstration of Brazil's confidence in the role which CAF plays in regional development, the minister of Planning, Budget and Management, Paulo Bernardo Silva, today signed with CAF President & CEO Enrique García, an agreement to increase Brazil's capital in the Corporation by US$190 million. During the signing, it was announced that Brazil had met the requirements for full membership of the Latin American financial organization.
After the signing Minister Silva expressed satisfaction with the signing and said, "this is a very special moment for Brazil, the government of my country - particularly President Lula da Silva - strongly believe that CAF will continue to be an important factor for the growth of the region. It is a versatile institution in which we have found a great ally."
García said, "the visit of Minister Silva confirms the Brazilian government's desire to support the strengthening and consolidation of CAF as a Latin American institution which promotes and reinforces regional integration and sustainable development." "In the last three years over US$25 billion has been approved for shareholder countries to support projects in the public and private sectors, mainly in areas related to infrastructure, social development, environment and the productive sector."
Since Brazil's entry as shareholder in 1996, the Institution has approved in its favor, under various financing schemes, a set of operations for approximately US$7.20 billion in sectors such as road and energy integration infrastructure, social and urban development, stimulus for international trade, and support for small-, medium- and micro enterprises.
Contribution to the sustainable development of Brazilian municipalities
The activities that CAF has executed in this country include Support Program for Municipal Governments (PRAM), set up in 2006 to contribute to the development of these Brazilian entities with US$200 million financing for the first phase. Long-term loans have been granted directly to municipalities which have complied with the eligibility requirements established by the Brazilian government and CAF.
Based on this successful experience and a Brazilian government requirement, it was agreed to prepare a Support Program for Municipal and State Government Hosts to the 2014 Football World Cup in Brazil. Its purpose is to partially finance projects of economic and social infrastructure, basic services and environment through individual loans to each host city.
Under this Program CAF plans to finance investments totaling US$1.00 billion while the Brazilian government will contribute US$1.00 billion for a total of US$2.00 billion. The subnational entities which receive CAF loans will be backed by the sovereign guarantee of the Government of Brazil.
The Brazilian federal government has a rigorous mechanism for qualifying subnational entities through COFIEX which sets the minimum requirements for authorizing financing through external debt.