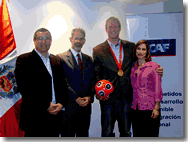 Canadian Olympic rowing champion promotes play and sport in education
December 04, 2009
Adam Kreek, ambassador athlete of Right To Play visited two rural colleges in Cuzco and shared experiences with the Peruvian rowing selection
(Lima, December 4, 2009).- With CAF support on a visit organized by Right To Play, Canadian athlete Adam Kreek, world and Olympic rowing champion, visited Peru to create awareness of the importance of teaching through play and sport. He met with teachers and students from schools in Oropesa and Señor de Huanca, located on the outskirts of the city of Cuzco.
In these localities, Kreek had the opportunity to converse with teachers trained in the methodology of Right To Play, an international humanitarian NGO which uses the power of play and sport to promote the integrated development of disadvantaged children in situations of poverty, illness or conflict.
Through play and passion, children acquire learning for life which strengthens the knowledge required for the regular curriculum, helps them learn to take positive decisions on their health, live in harmony with the environment, develop their identity and self-esteem, and play a balanced and productive role in their communities.
Before his visit to Cuzco, the 29-year old champion and engineer from Stanford University visited Club Regatas Lima in La Punta, Callao, where he exchanged ideas on techniques and experiences with the Peruvian rowers who will participate in the South American Championship to be held in Buenos Aires, Argentina.
The Olympic athlete also met with CAF deputy representative in Peru Ricardo Campins, who said the project - an innovative initiative promoted by the CAF Vice Presidency of Social Development and Environment - would be executed with Right To Play for the first time in a Latin American country, with the idea of replication in other countries of the region.
Right To Play has over 300 ambassador athletes selected from the world elite. The NGO, which works in over 20 countries of Africa, Asia, the Middle East, entered Latin America through Peru where it organizes training programs for local leaders and teachers from Cuzco and Lambayeque with CAF support.