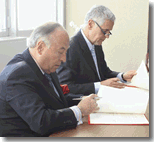 Garcia signs agreement with Lombardy Region in Italy
December 02, 2009
With this signing in Milan the financial institution continues deepening ties between Latin America and Europe.
(Special: December 2, 2009).- In Milan, capital of the Lombardy Region of Italy, an agreement was signed today by CAF and the region with the objective of maintaining close coordination and cooperation in matters of common interest with a view to strengthening relations between the Corporation's Latin American shareholder countries and Europe. The agreement was signed by CAF President & CEO Enrique García and Lombardy Region President Roberto Formigoni.
"With the signing, the Lombardy Region, in the framework of reinforcing its alliance with international financial institutions, is providing CAF with the best practices and experiences of Lombardy in terms of knowledge, experience and economic and productive development, with emphasis on promotion and financing for small and medium-sized enterprises," Formigoni said.
Garcia said, "This is a framework agreement of inter-institutional cooperation which supports the Millennium Development Goals by promoting sustainable social and economic development, reducing poverty and favoring social inclusion, along with bi-regional integration and competitive participation in the world economy. All these are areas in which CAF - in its almost 40 years - has had an active presence."
The CAF chief added that the institution he heads favors deepening the links between the two regions. "The presence of Spain in CAF and the recent membership of Portugal strengthens the Corporation's Ibero-American dimension and reaffirms its bridging role between Latin America and the European Union."
Relations between CAF and Italy have developed through a serious of cooperation agreements which have been successfully executed and have laid the base for Italy's future membership of the Corporation; especially the Memorandum of Understanding, signed in October 2007, which aims to move forward the negotiations on Italy's entry as shareholder of the multilateral financial organization.
Additional actions include agreements signed with the Italian Foreign Ministry which set up the Cooperation Fund; with Società Italiana per le Imprese all'Estero (SIMEST) to stimulate development of medium-sized enterprises in Latin America; and with Instituto Italo-Latinoamericano (IILA), among other steps which develop the mutual interests of the two parties.
In the last three years the Corporation has approved around US$25 billion for its shareholders countries in support of projects in the public and private sectors, mainly in areas related to infrastructure, social development, environment and the productive sector, emphasizing small and medium-sized enterprises. In addition, substantial amounts of non-reimbursable funds have been approved for programs which support entrepreneurial activity and competitiveness, strengthening of social fabric and border development, reaffirming CAF's catalytic role in regional integration.