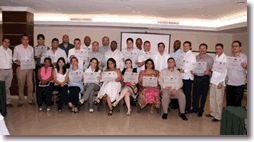 Governance and Political Management Program ends successfully in Colombia
December 23, 2009
The program, supported by CAF and George Washington University, closed in Bogotá, Barranquilla and Bucaramanga.
( Bogota, December 2009).- The closure of the diploma of Advanced Studies in Governance and Political Management was held in Bogota. The program is developed by the University of El Rosario through its Faculty of Political Science and Government, with the cooperation of CAF and the George Washington University Graduate School of Political Management.
A total of 53 students, including public officials, political and social leaders, and academics formed the group of participants in the course.
At the closure in the Barranquilla center, 25 students received their diploma. In the Autonomous University of Bucaramanga (UNAB) the graduation ceremony was held for the 26 participants who took part in the seventh course.
The objective of the CAF Governance and Political Management Program is to offer an integrated view of the problems of economic and social development, and the capacity to implement that view in an articulated framework of action which takes into account technical elements, and political, economic and social viability.
After starting in 2001 in Bolivia, the program has developed with great success in the last nine years and now has 8,400 participants in Argentina, Bolivia, Colombia, Ecuador, Mexico, Peru and Venezuela, and as a result has expanded into Panama and the Dominican Republic.