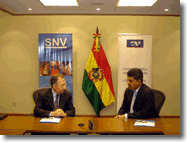 Non-reimbursable funding for Inclusive Business program
December 15, 2009
Inclusive Businesses are entrepreneurial initiatives which bring low-income communities into company value chains in an effort to reduce poverty and create a win-win situation in which companies and communities benefit mutually.
(La Paz, December 15, 2009 ).- CAF and SNV, Netherlands Development Corporation, signed a non-reimbursable technical cooperation agreement under which the multilateral development bank will fund the second phase of the Inclusive Business Program for Micro- and Small Producers. The objective of the program is to expand opportunities in this sector, with emphasis on the rural area, by forming clusters with large businesses, and stimulating creation of products and services specifically targeted at low income sectors, with the full participation of private enterprise and the Business Council for Sustainable Development - CEDES Bolivia.
"CAF supports this initiative because it creates opportunities for low-income populations by integrating them into the productive sector, and helps micro-entrepreneurs improve their production skills and establish sustainable links with the large companies of the country," CAF director representative in Bolivia Emilio Uquillas said, during the signing of the agreement.
For his part, Ney Barrionuevo, manager of SNV Bolivia, said there were attractive opportunities in Bolivia for inclusive business in which companies develop new products and services and incorporate segments at the base of the pyramid into the value chain, as suppliers or new customers.
In this framework it is hoped that Inclusive Businesses will develop - over the next eight months - focused on the agricultural, food, forest and value-added export sectors, which will supply affordable products and services to thousands of new customers in excluded segments, and over 300 micro and small producer families in Bolivia which - by including them in the business clusters - will gain access to the formal economy, with possibilities of training and access to finance.
In the first phase of the program over a dozen Inclusive Business proposals were evaluated; and four projects were prioritized which are now in execution stage in the areas of financial micro-transactions, micro-insurance, nutritional pharmaceutical products, and dairy industry.
The Inclusive Business program which CAF will finance aims to harness the private sector's innovative and managerial capacity to develop initiatives which create solutions for exclusion at the same time as generating profits for the business sector.
The SNV, Netherlands Development Corporation, is a Dutch organization which works to reduce poverty and promote better governance by developing the capacities of local actors. With over 40 years experience in the region, it acts as catalyst of a common agenda by providing strategic advisory services and facilitating knowledge development for public, private and social sectors.