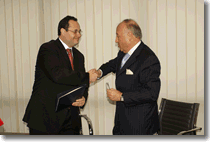 Peru increases its capital in CAF
December 08, 2009
The agreement was signed by the CAF President and the Peruvian Minister of Economy and Finance.
A framework agreement was signed for a $400 million Contingent Line of Credit to support the Peruvian government's efforts to mitigate the risks derived from the international financial crisis.
(Caracas, December 8, 2009).- In the CAF headquarters in Caracas CAF President & CEO Enrique García, and Luis Carranza, Peruvian minister of Economy and Finance, today signed the agreement to increase the country's capital in the institution by US$380 million. At the same time, they signed a framework agreement for implementation of a Contingent Line of Credit for US$400 million in favor of Peru.
García said, "Peru's capital increase is evidence of the confidence placed in CAF by this country. The signing is, without doubt, a recognition of the catalytic role and valuable contribution of the institution to sustainable development and regional integration."
On the Contingent Line of Credit, the CAF chief said, "with this operation, CAF is playing its anti-cyclical role by backing the national government's efforts to execute its public debt strategy through a preventative financing instrument which provides funds to the country in case of a disruption in access to international markets."
The CAF president added that the operation was requested under the umbrella of the anti-crisis program proposed by Peruvian President Alan García which, in addition to a series of fiscal measures aimed at strengthening sustainable economic growth, includes preventative financing instruments with various multilateral organizations.
With this Line of Credit, CAF makes funds available to the Peruvian government to cover possible requirements in a situation of difficult access to financing on international markets for reasons exogenous to the fiscal and monetary management, thus maintaining the continuity of the public debt management strategy.