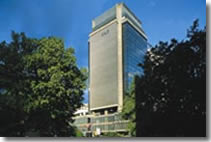 Successful event on corporate governance in Brazil
December 14, 2009
Over 50 representatives from the sector attended the Fourth Annual Conference of Development Finance Institutions, organized by CAF.
(Special, December 14, 2009).
The Fourth Annual Conference of Development Finance Institutions (DFI) on Corporate Governance
was held recently in Rio de Janeiro, Brazil. The meeting was coordinated by CAF on behalf of the Working Committee formed by the
African Development Bank (AfDB), European Bank for Reconstruction and Development (EBRD), Dutch Development Bank (FMO), International Finance Corporation (IFC), and Islamic Development Bank (IsDB)
. This year, the event took place with the special participation of the Brazilian Development Bank (BNDES).
As part of CAF's efforts to disseminate and implement Good Corporate Governance Practices, the Conference focused on defining the role of Development Finance Institutions in the global crisis, by promoting Good Corporate Governance Practices as an effective vehicle for confronting the international situation.
The objective of the meeting was to follow up the points contained in the Joint Declaration on Corporate Governance, signed in 2007 by a group of 31 DFIs committed to development. The occasion was ideal for sharing experiences and checking progress on implementation of the principles of Good Corporate Governance Practices in Africa, America, Asia and Europe. Once again, the event brought together again over 50 authorities and representatives of the multilateral organizations. The next conference will be held in Jeddah, Saudi Arabia.