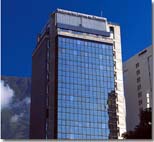 CAF in solidarity with Haiti
January 15, 2010
CAF donates US$250,000 in humanitarian aid
(Caracas, January 15, 2010).- In view of the serious situation which the Haitian people are suffering following last Tuesday's earthquake in the capital Port-au-Prince, CAF President & CEO Enrique García approved a US$200,000 donation as prompt aid for the emergency.
"On behalf of CAF and myself I offer our most sincere solidarity to the people of Haiti in view of the devastating effects of one of the worst earthquakes the country has experienced, causing considerable human losses, thousands of victims, as well as enormous material losses," García said.
He called on the international community to redouble its efforts to provide immediate and integrated humanitarian aid and assistance in response to the emergency.
The earthquake of 7 points on the Richter scale devastated a large part of the capital. As a result CAF, understanding the Haitian government's need for rapid disbursement of funds, has worked quickly to deliver the US$250,000.