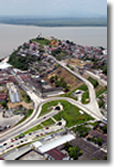 US$60 million for Av. de las Americas Interchange Program in Guayaquil
January 06, 2010
CAF approves loan to partially finance the Av. de las Americas Interchange Program and urgent works .
The funds will finance direct construction, and the environmental and social costs
(Quito, January 6, 2010 ).- CAF approved a US$60 million loan for Guayaquil Municipality to partially finance construction of the Av. de las Americas Interchange Program and urgent paving works in the popular Tarqui and Ximena parishes. The executing agency is Guayaquil Municipality through its public works department.
The main objective of the Av. de las Americas and Benjamin Rosales traffic interchange is to implement a series of works to upgrade the city's road infrastructure. The works will improve access to various public transport facilities in Av. Benjamin Rosales, such as the bus terminal and the Rio Daule terminal. The interchange will cut travel times by improving intra-zone mobility and reducing congestion in Av. Rosales, resulting in savings of time and vehicle operating costs, reduction of accidents and the environmental impact caused by gas emissions and engine noise.
Paving of streets in popular sectors will improve the socioeconomic conditions of the resident population by enhancing environmental and urban quality, optimizing the urban and rural road system and opening corridors for public transport and road infrastructure.
The funds from the CAF loan will be used to finance direct construction costs, as well as environmental and social costs.
CAF's important support for the city of Guayaquil includes channeling funds into the public sector for construction of infrastructure works for sanitation and roads, such as the Sewage System Project (the recent opening of the city's most important sewerage pumping station will benefit over 200,000 people), the Mass Transport Program for Guayaquil, the Estero Salado Cleanup Program and the city road program.