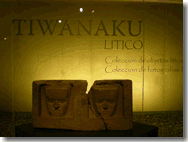 Ancient sculptures and historical photographs in "Tiwanaku lítico"
(La Paz, February 19, 2010).- Initiating its cycle of exhibitions for 2010, CAF Artespacio opened the "Tiwanaku Lítico" exhibition where the public can appreciate significant stone objects representing the classical period of this Andean culture from the heritage collection of the National Archaeology Museum. The exhibition also includes historical photographs of stone objects from the Núñez de Arco collection, taken by Arturo Posnansky, archaeologist and expert on the Tiwanaku culture.
The 11 stone sculptures exhibited in Artespacio consist of pieces such as recipients, objects of ceremonial and everyday use and two sculptures of Ekekos or hunched figurines, the oldest examples of the deity of the traditional Alasita festival.
Artespacio is also showcasing part of the collection of historical photos of Núñez de Arco, one of the most complete and important in the country. These photographs of stone objects were taken by Austrian-Bolivian naval engineer and archaeologist Arthur Posnansky (1873-1946), who devoted all his efforts to discovering Tiwanaku and researching the life and social organization of the Altiplano groups (Aymaras, Urus, Chipayas).
The photos taken by the first explorer-archaeologists show the famous ruins as desolate pampas before they had suffered the transformation of modernization and the arrival of the train in 1910.
Thanks to the cooperation of the National Archaeology Museum, the collector Javier Nuñez de Arco and recognized experts on Tiwanaku culture and iconography, CAF Artespacio offers the public of the Bolivian capital the opportunity to admire these priceless examples of the richness of one of South America's most ancient cultures.
CAF Artespacio is located at Av. Arce Nº 2915 (San Jorge) in the CAF corporate building. Opening times are from 8:30 to 12:30 and 14:30 to 18:30. The exhibition is open until March 19 and admission is free.