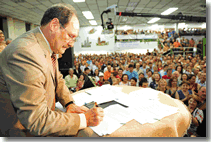 Brazilian municipal infrastructure receives funds.
February 04, 2010
A loan agreement for US$28.8 million signed with Caxias do Sul prefecture.
The funds will contribute to developing the municipality by paving and upgrading the secondary roads which connect the municipality's main towns with the paved trunk roads.
(Brasilia, February 4, 2010). Caxias do Sul, Brazilian municipality in the state of Rio Grande do Sul, will execute its Municipal Infrastructure and Basic Services Development Program with a CAF loan of US$28.8 million backed by a guarantee from the Republic of Brazil. CAF director representative Moira Paz-Estenssoro, and the prefect, José Ivo Sartori, signed the loan agreement.
"With this Program - Moira Paz-Estenssoro said - CAF is promoting the development of the municipality through the paving and upgrading of the secondary roads which connect the heavily populated urban areas of the municipality with the paved trunk roads."
The works to be executed will improve the connections of Caxias do Sul Prefecture, which has over 400,000 inhabitants, to the other localities of Rio Grande do Sul and the region. The Program will facilitate transport in the rural area of the municipality, benefiting various communities which will be able to increase their production because of better access to markets, the CAF executive added.
The works will result in the social inclusion of a large part of the population of the municipality by facilitating access to education centers in the urban area.
The total cost of the program is US$72 million, of which 39% is financed by CAF, and 61% contributed directly by Caxias do Sul Prefecture.