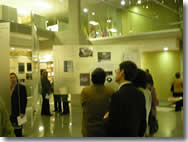 CAF exhibits retrospective of Velasco Maidana, icon of Bolivian cinema
(La Paz, February 25, 2010).- A retrospective of the artistic works of José María Velasco Maidana (1896), director of the most representative full-length silent film of Bolivian cinema Wara Wara , is now on show at the CAF representation building in La Paz.
The exhibition was organized by the Bolivian Cinemateca Foundation following projection of a 20 minute summary of the film. The showing was organized by CAF as a proposal to the Bolivian business sector committed to rescuing the country's artistic and cultural heritage, with the objective of motivating support in the sector for the project to fully restore this outstanding cultural asset of Bolivian and Latin American cinema. The film was directed by Velasco in 1928 and 1929.
Despite the financial support of CAF and other international partners, the Cinemateca Foundation still needs contributions to complete this important project of cultural development and rescue of Bolivia's heritage.
CAF director-representative in Bolivia Emilio Uquillas said, "CAF invites the business sector to join this type of initiative. We consider that human capital is a solid base for the development of countries, and who better than the Bolivians themselves to take the first step in this noble crusade."
The Wara Wara restoration project undertaken by the Bolivian Cinemateca Foundation is the result of over 20 years' work on the narrative reconstruction, photochemical preservation, and digital restoration of the film, which is one of the most important pieces in the National Archive of Moving Images.
"It is practically a miracle in the history of film and the Bolivian cinema that a film of such high quality has survived so long in the climatic conditions of La Paz.
Wara Wara is 80 years old, and has an extraordinary valuable level of preservation," Edward Lopez, consultant to the Bolivian Cinemateca, said.
The film is characterized by the use of natural scenes which show the arrival of the Spanish in the Inca empire and the love of a Spanish captain for an Incan princess. It is now considered to be one of the most monumental films made in Latin America and the world.
The retrospective will be on show in the Hall of the CAF building located in Av. Arce No. 2915 (San Jorge) until Wednesday, March 3. Admission is free.